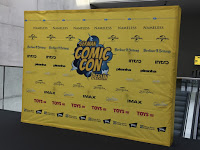 I was at
the German Comic Con this weekend. For the first time, this huge event was in
our capitol. A big thanks goes out to the-anna-diaries.de and the Corona
Magazin, who were the reason my best friend and I were able to go there and
write about it.
When the
first guest announcement was made, I was already freaking out. James Marsters
would be there, I mean, c'mon SPIKE!? And then we finally got the go to be a
part of the Convention.
| | |
| --- | --- |
| James Marsters bei der Pressekonferenz | James und Robert Englund bei der PK |
The
whole Con mania started for us on Friday, because there was a press conference.
So, at 11 o'clock we sat in a room at the exhibition grounds and waited for the
participants from the conference. Truth been told, I've only seen James in the
very first seconds and recognized Robert Englund, Flavia Scuderi and Sascha
Wustefeld later on. If you wanna know more about the conference, just take a
quick look at Anna's blog and the Corona Magazin, which will come out between
middle and end of next month. (Only in German, so if you can't read German, I
am sorry)
Anyways,
my fanheart was already beating fast on Friday.
The
convention started on Saturday. For me, it was my first time at a Convention
like this. I only were on a few Manga ones with my ex-boyfriend, but this was a
whole other gauge.
I was
really gobsmacked, even when I was a little bit disappointed from the
Cosplayers, but that was only my first glance, it changed over the days.
I
started watching The Walking Dead two months ago and for a TWD fan, there was a
lot of things, which made me happy. So much things from TWD, especially since
season 7 will air in a few days. But don't spoil me, I still need to watch
Season 6 as well. J
The
autographline was very surprising for me, I never thought they will sit there
the whole day, when they don't have anything to do in between and be bored. You
saw that very good with Tosin Cole, who sat there with earplugs and played with
his phone, asked sometimes cosplayers to make a Selfie, because he enjoyed
their cosplay.
Sure,
there were people, like Christopher Lloyd, where the line was always full and
they never had a minute to gasp some air. Same thing with Billie Piper, but tbh
we didn't really see her, only like one time.
The
mainstage… it wasn't huge. It was really small and there wasn't enough space
for everyone, so we decided not to go to the panels. First, stressful day was
over and we had hopes that the next day would be better.
After
relaxing a bit, the next day did come and it wasn't that full there anymore.
We had
the opportunity to ask some of the actors and guest a few questions.
Amanda
Bearse will always be in my memories, not only as Marcy from "Married with
Children", but as a very kind person.
We asked
her, how it is to be always connected to Marcy, since she played that role for
ten years. She loves Marcy  and she loves
to talk with fans about her. A fan had a book about the show and she looked
through it and told some stories. She was so kind, she also stood up to make a
picture for my blog with us.
Our way
went to Chad Coleman. I already said that I'm a TWD Fan? Okay, I'm gonna post
the interview how it was. My best friend had helped me a lot, especially with
the translations.
What was the most remarkable moment on the set from The Walking Dead?
When
Tyreese enters the story, when he jumped out of his hidden spot behind the tree
and killed this walker. That was for me the most remarkable one.
Did your view on the world change? Do you think that there's a
possibility that such a virus could go viral?
I think
so and I think you should investigate those cases and look at them. It's also
one of the things I do love about the show, all those questions "What would you
do, how far would you go? Shall I go this way or not?" and especially what they
do, cleaning this places from Walkers to live there and get their people safe.
Any new projects?
(short
information from the translator: I do watch Arrow, so I'm so dumb. I forgot
it!)
Yes, I'm
currently working on "Arrow", I'm playing the villain. Also, I'm working on a
new show called "The Expanse" (it'll be on Netflix on November 3rd)
it's a spaceship drama.
Well,
who doesn't know him? SEAMUS FINNIGAN! Exactly, Devon Murray found his way to
this con. I was so surprised how he's looking now, I had this image from this
little boy from Harry Potter in mind, but he is all grown up now.
I wanted
to know if he has seen "Harry Potter and the cursed child", but unfortunately,
he didn't. But he had read the book and he liked how they wrote the story and
the twist within.
Devon Murraý
My
fanheart was already very grown, but it wasn't enough. We talked to Greg
Grunberg and Ray Park, both from Heroes!
As you
can see, I do love Heroes. This is why I wanted to talk to them and I don't
need to say, that they were kind and friendly, do I? I mean, I wouldn't fawn
over them if they weren't nice 😀
I wanted
to know which superpower they would like to have. Greg thinks, he has the
perfect power as Matt. Sure, he wouldn't read everyone's mind, like his wife's,
but he loved the role. It was so amazing in so many different ways, emotional
and he wouldn't change it. Ray, who played Edgar, joked that he already have
superpowers and can read minds. But then he told us serious, becoming a father
gives you enough superpowers and he loves being a father. Cute, isn't it?
We also
asked Ray, if he has some favorite shows himself. And he does love FBI shows,
criminal investigations, e. g. Blindspot, but he also was a fan of the show
Heroes, before he was a part of it on his own, which was always his dream which
came true then.
Last but
not least, we went to James again, who recognized us from Friday. I had no idea
that my heart could beat that fast.
Nathi
wanted to know, how it was for him working with Jared and Jensen from Supernatural.
His
answer: F A B O L O U S! They are unaffected by fame, they never have loosened
their path, never lose their way and it's the happiest set I've ever been.
Also, I
wanted to tell him, that he can play Spike easily, even if he got older,
because he's still looking great and young. He laughed and said, that he likes
the way I see things.
He also
told us his favorite German word, which is "Liebe" and he can say "I love you"
(Ich liebte dich, he said, which is a little bit wrong in German). We talked,
we laughed and I got some compliments… teenage dream came finally true.
Overall,
the Comic Con was a great event. Sure, there are some people who are
complaining, but I can say that the Minions (yes, the staff was called so),
weren't really informed unfortunately. We were told, ask the staff there, e. g.
mainstage, but they also didn't know anything.
But all
of them were kind and respectful, staff and guests. The only guest I didn't
really like and never will was Famke Janssen. She never really had a look on
her face, that she enjoys being there, five people as bodyguards around her.
You couldn't take your phone out of your pocket without being roughly told to
put it away and NO PHOTOS! I didn't really like that.
Anyway,
if there will be another one next year and they may think about a bigger place,
I'd happily go there again. Own hall for the mainstage and panels, one hall
only for the photoshoots and autographs, then it'll be all sort out.
You can
take a look at my facebookpage, I have uploaded some pictures, which aren't
online here.
Click for Album